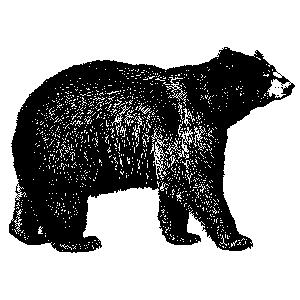 BEAR RIVER
Tree Farm LLC
Fred and Linda Pickering
21546 NE Lucia Falls Road
Yacolt, Washington, 98675
(360) 686-3108
Email fredp@Yacolt.com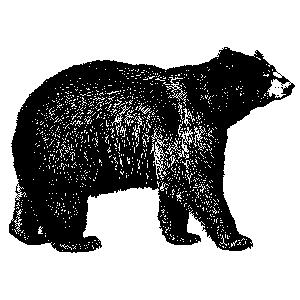 Bear River Tree Farm LLC owns 216 acres in section 5 and section 4, township 10 north, range 10 west, at the mouth of Bear River. The tree farm extends along Highway 101 from Green Head Slough to mile post 21.5. Highway 101. Bear River and Willapa Bay are the west boundary of the tree farm. US Fish and Wildlife and Nature Conservancy are the adjoining land owners. Combined the two agencies own 14,000 acres. Bear River Tree Farm is the only private land owner within the 14,000 acre wildlife / natural revere.
TREE FARM GOALS AND OBJECTIVES
Our goal is to be the best possible stewards of our land, including the water and the plants and wildlife that live on our tree farm.
Our objectives for the Bear River Tree Farm LLC is to grow and harvest forest crops. The tree farm will also provide open space benefits, water shed protection and wildlife habitat, all in conjunction with the primary purpose of growing and harvesting of forest crops.
HARVEST GOALS:
Harvests will be ongoing to fulfill expenses of the tree farm or to improve the forest health.
WILDLIFE GOALS:
Wildlife and wildlife habitat will be considered in all management decisions. All wildlife will be encouraged, those species that are most compatible with our goals and objectives will be favored. Emphasis will be placed on encouraging big game and water fowl. There is excellent elk, deer and water fowl hunting on the property, as well fishing for trout, seel head, salmon and sturgeon.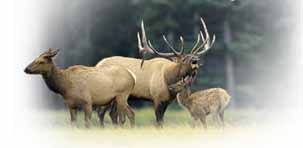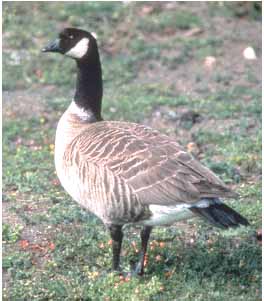 WATER QUALITY GOALS:
Every effort will be made to see that all water exiting the tree farm will be of equal to or of higher quality than when it entered.
SILVICULTURE GOALS:
Areas capable of growing conifers will be stocked with vigorous, healthy, properly spaced mixed conifer stands. All other areas will be stocked with the most suitable vegetation.
Western hemlock (Tsuga Heterophylla), Western red cedar (Thuja plicate), Sitka spruce (Picea sitchensis) and Douglas fir (Pseudotsuga menziesii) are the most suited conifers for most of the sites on the Bear River Tree Farm LLC. Red alder (Alnus rubra) is the most suited hard wood.
WATER:
Willapa Bay or Shoal Water Bay and Bear River lay to the west of the tree farm. Three or four unnamed type III streams flowing into Shoal Water Bay, drain the majority of the tree farm. Green Head Slough lays in the north part of section eight or the southwest corner of the tree farm. The Pacific Ocean and the Mouth of Columbia River can be seen from the tree farm.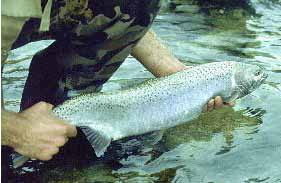 For sale by owner:
A unique property with over a mile of waterfront on Willapa Bay, with spectacular views of Willapa Bay, Long Beach Peninsula, the Pacific Ocean, and Bear River.
Sturgeon, salmon and steal head can be caught in the Bear River and Willapa Bay from the property. Wildlife is abundant: dear, elk, bear and other wildlife roam freely. In past years record book elk have been taken from this property.
Fantastic, elk and deer hunting, duck hunting, fishing, all on and from this 216 acre waterfront parcel.
The 216 acres is in 5 acre zoning, and can be easily divided into 10 acre lots with little or no County review.
This property has many potentials: It would make a fantastic private estate, tree farm, an exclusive hunting lodge, or unique five or ten acre individual parcels.
It is surrounded by approximately 14,000 acres of wildlife lands owned by Fish and Wildlife, Nature Conservancy. This is one of the last large waterfront parcels for sale in the Pacific Northwest.
Recreation potential is endless. Great kyaking in the Bear River and Willapa Bay, hunting, fishing, bird watching, hiking, more.
This is a very rare property.
SPECIAL FEATURES:
Surrounded by 14,000 resource acres owned by Fish and Wildlife and Nature Conservancy lands.
Close to resort communities of Long Beach, Ilwaco, Seaview, Washington.
Great clamming, fishing, boating.
Superb elk and duck hunting.
Spectacular views of, Willapa Bay, Long Beach Peninsula and Pacific Ocean beyond.
Merchantable timber: cedar, hemloc, spruce, Douglas Fir, Alder
Only 7 miles from the city of Long Beach, Washington.
Over one mile of waterfront on Willapa Bay and Highway 101.
Abundant wildlife: elk, deer, bear, eagles, ducks, more.
Would make fantastic private estate.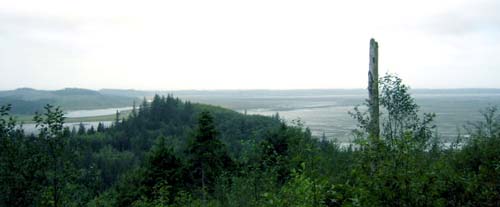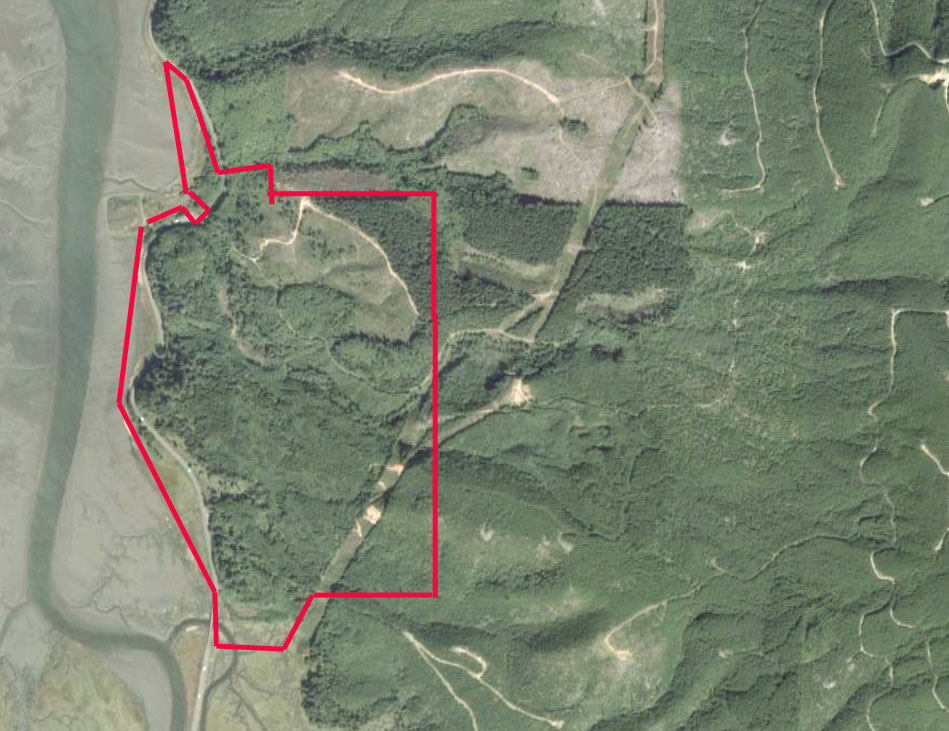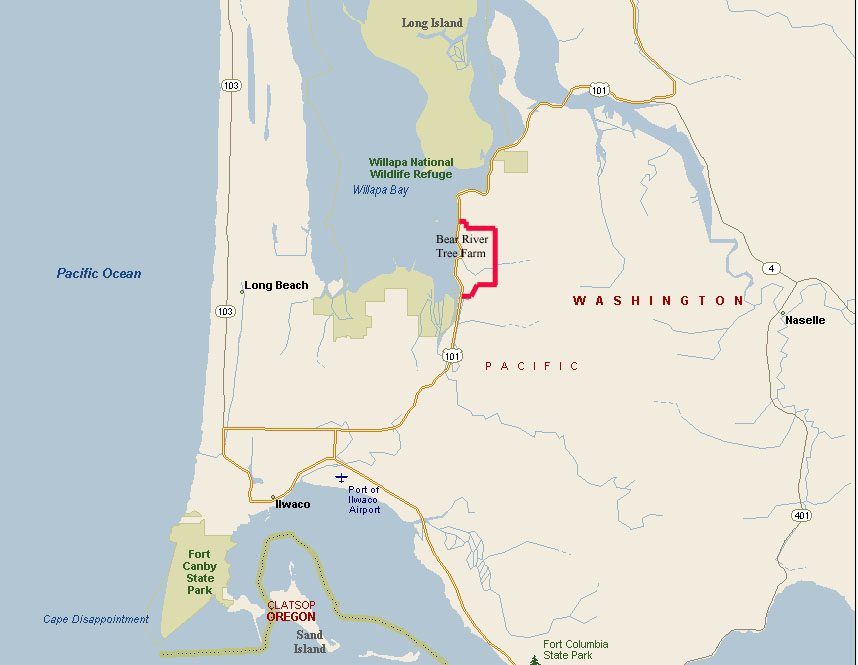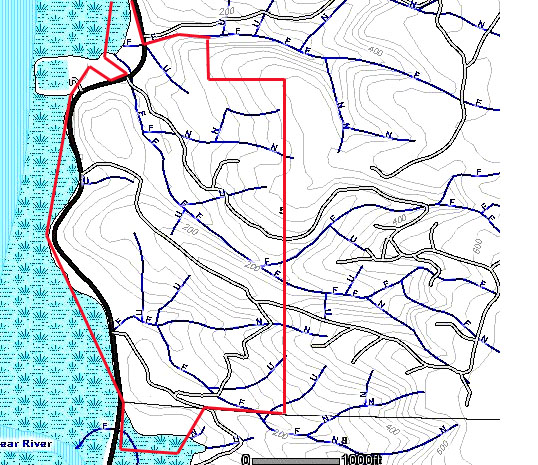 Created with Admarket's flickrSLiDR.







Bear River Tree Farm, LLC